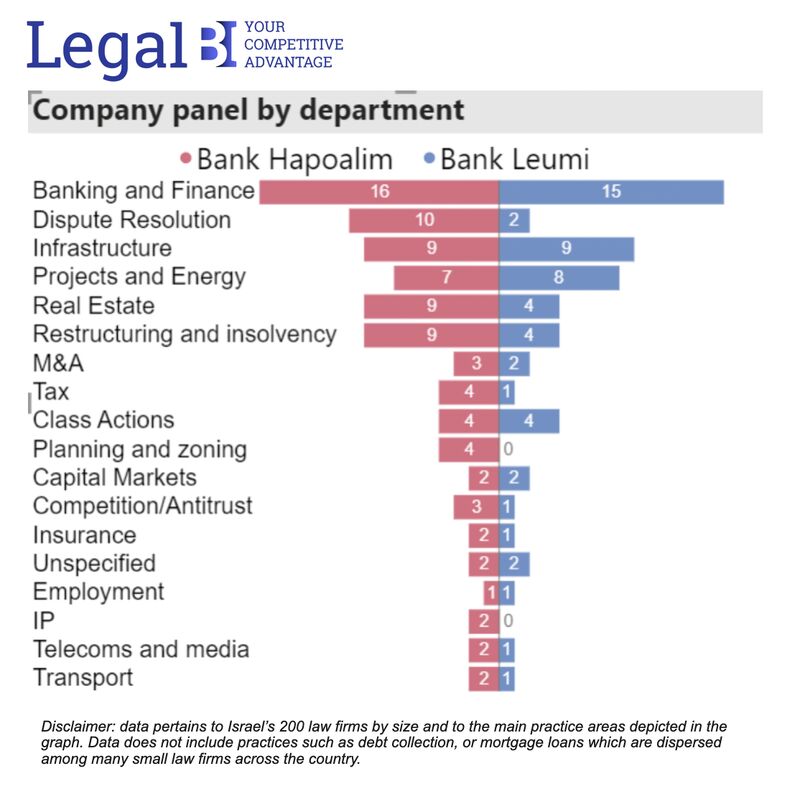 The banking sector in Israel has always been in the headlines. Recently, financial paper Globes published an article stating that Bank Leumi and Bank Hapoalim are neck and neck in the market cap race. In light of this, we used market intelligence platform, Legal-BI, to scout who are the law firms acting for these banks and in which practices.
It is interesting to note that the number of panel appointments, among Israeli banks, is very high in comparison to other jurisdictions where banks are consolidating their mandates to a few law firms. This is evident by the fact that nearly 20 Israeli law firms represent Leumi and Poalim, 85% of which represent both, across 17 practice areas.
In most cases, Bank Hapoalim employs more law firms, as can be seen in dispute resolution (10 firms represent Poalim and only two represent Leumi), Real Estate and Restructuring (9:4 for Poalim in both instances). When it comes to traditional banking and finance work, 16 law firms advise Poalim and 15 Leumi. Another area where many firms are involved is Infrastructure (9 firms each) and Energy (7 firms for Poalim and 8 for Leumi).
The law firms that represent Bank Hapolaim in the most practice areas: S. Horowitz, Goldfarb Gross Seligman and Meitar.
The law firms that represent Bank Leumi in the most practice areas: S. Horowitz, Arnon, Tadmor-Levy and Herzog.
Legal-BI members can login and see full details, such as which law firms represent the banks and in which practices, how many mandates each firm has and more.